Social media marketing has risen to the top of the agenda for every online community as a means to overcome the limitations of time and space while trying to grow a business. It is like a gush of air that spreads your word from door to door as it completes its voyage. Any business relies on social media for publicity regardless of category.
Social media is like an echoing instrument that is heard by all. Rehabilitative care businesses also benefit from this forum's exposure and public notice. How does social media spotlight this category? Let's see!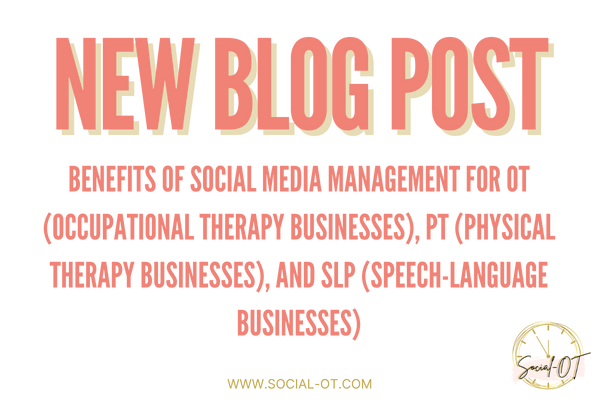 Social media management for OT (occupational therapy businesses):
Suppose you see an ad on your television for a product. That ad is supplied with the specs and features of that product - giving you all of the information that will persuade you to buy. The same is the case with social media. An advertisement for an occupational therapy service is seen by potential consumers on social media. Social media is a dependable space for marketing your concept, as it consumes an average of 28% of a consumer's time. Digital management can do wonders for a pharmaceutical company's advertising. OT businesses can benefit from social media through
OT businesses can benefit from social media through:
Posting updates regarding any treatment or protocol

Sharing progress reports of patients who improved their activities of daily living through OT treatment

promoting effective treatment regimens and new equipment

Defining and redefining your goals through posts, blogs, and content creation

Let patients share their recovery and improvement in quality of life through OT sessions - with patient consent, of course!
You can access all sorts of information online. OT businesses also use their web space for booking appointments, tips for improving quality of life, and ADLs through OT sessions.
Social media management for PT (physical therapy) businesses:
Let's assume a guy spends ten hours a day sitting on a computer for work & develops neck pain. His physician refers to physical therapy. He is familiar with "physical therapy" and remembers seeing a social media page for a local therapist.
Social media lends a helping hand in:
Locating a physical therapy center (per the user's demographics)

Extracting information related to regimens, timings, best practices, and appointments

Motivating treatment approaches showing off your clinic & therapy providers
From athletes to stroke patients, the spectrum of consumers is diverse. A smartphone is a magical entity connecting you to a physical therapy service provider within minutes!
Social media management for SLPs (speech-language businesses):
When your information is out there, anyone can access it. The benefits of social media management for speech-language therapies can include the following:
Photo and video content elaborating on services provided

Connecting with prospective clients/patients

Establishing awareness regarding your position in patient care

Letting people know what you do, your goal, and your importance in healthcare
SLP businesses can increase brand building, generate leads, and create awareness through online posting, consistency, and regular interaction with their target audience. Social media marketing is a web space with a miraculous reach through content posting and engagement!
Conclusion:
The more words of wisdom are spread, the more they flourish. The only proper understanding is in knowing. People need to be more informed to know when there is a need for an OT, PT, or SLP session. Educating the audience is an essential feature of social media.
---
If you're an occupational therapist, physical therapist, or speech-language pathologist who is looking for help with your social media marketing, I can help!
As a social media manager, I specialize in creating content that is designed to attract and engage potential clients. To learn more about my social media services click here or visit www.social-ot.com