Understanding the Legal Implications of Managing Therapy Clients' Accounts
Social media has revolutionized the way people communicate and interact with each other, but it has also created a minefield of legal issues for service providers to navigate.
Managing a social media account is like walking a tightrope. On one side, you have the need to remain compliant with laws and regulations. On the other, there's the desire to keep information confidential and secure. It's not easy finding that perfect balance between them both, but it can be done! In this article, we'll look at how Therapy professionals can manage their social media accounts without compromising either confidentiality or compliance laws. We'll explore different strategies for managing accounts while staying within legal parameters as well as best practices for maintaining privacy and security safeguards on digital platforms. By the end of this article, you should have a better understanding of how to navigate these tricky waters successfully!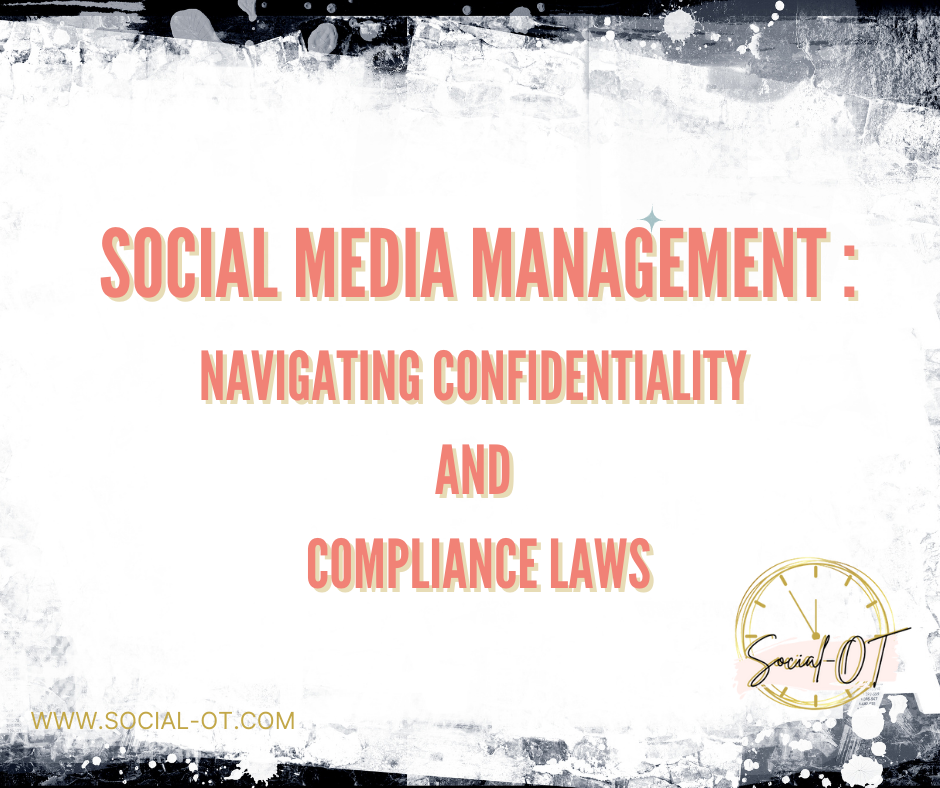 Digital Media Laws All Service Providers Should Know
These laws are important for every service provider to know, understand, and abide by when managing social media accounts.
Copyrights Act
This act protects people's right to own and control their creative works, such as images, videos, music, and other content. Service providers should be aware of this law and ensure not to post unauthorized copyrighted material on behalf of their clients.
Let's take an example. If your client's blog post includes a photo, it is important to ensure that the image was obtained with permission from the rightful owner. On the other hand, copyright-free images are allowed as long as they are credited appropriately. Software like Canva can help you find copyright-free images that are suitable for use.
Communications Decency Act
The Communications Decency Act (CDA) protects against obscenity and other forms of offensive material from being posted on behalf of your client. For example, if a client requests that you post content with profanity or nudity, you should deny their request. Also, any content deemed overtly offensive could lead to legal action against the service provider.
Americans With Disabilities Act
This act prohibits discrimination against any person with a physical or mental disability. Any content posted on social media that targets individuals with disabilities or fails to make reasonable accommodations for those with disabilities is considered a violation of the law. Service providers must ensure that any content they post on behalf of their clients doesn't discriminate against people with disabilities and includes accessibility features such as alt text descriptions, subtitles, and closed captions when necessary.
Children's Online Privacy Protection Act & Electronic Communications Privacy Act
Regarding social media management, there is a great deal of responsibility that comes with the job. Service providers must be aware of the laws and regulations that affect their clients' accounts and ensure they do not break any of them.
For example, the Children's Online Privacy Protection Act (COPPA) has been established to protect children from being exposed to ensure data is not collected for children under 13. Similarly, the Electronic Communications Privacy Act (ECPA) was created to keep electronic communication secure and private by prohibiting unauthorized access to it.
5 Things All Service Providers Must Do to Manage Social Media Accounts
Now that you have a good understanding of the laws and regulations that govern social media, here are seven important things service providers should do to ensure they don't break any laws while managing a client's accounts.
Respect Copyright Laws
Always check and make sure the content you are posting on behalf of your client is not protected under copyright laws. Refrain from using any content that requires permission or payment to use. The following three actions will help you stay legally compliant when it comes to copyright:
Always give credit or link back to the original source of content.

Be sure to obtain written permission from the copyright holder before using their work in any way, shape or form.

Research public domain works that are free for use by anyone without the need for permission or payment.
Adhere To Terms Of Service For Each Platform
Every social media platform has rules and regulations that must be followed if a user is to remain in good standing on the site. Service providers must ensure that their clients' accounts adhere to these terms of service at all times. A few key policies that need to be respected include:
Don't post any content that violates the terms of service for a particular platform.

Refrain from spamming or using unethical tactics to promote posts and accounts on social media sites.

Make sure content is not posted anonymously or under fake cover names to avoid being flagged by the site's moderators.
Confidentiality Should Be Maintained
Service providers must protect their client's confidential data and treat it like its a valuable asset. Today's data breaches are far too common and can have severe repercussions for the company and its clients. A few key measures that should be taken to ensure the safety of client data include:
Only access the client's accounts from protected devices and networks.

Ensure that client passwords are kept in a secure environment, such as a password manager app or device encryption software.

Refrain from sharing a client's confidential data with anyone else without their permission.
Interacting With Clients and Users
Social media accounts should not be used to spread hate or negativity, no matter how true it may be. Service providers should also keep their interactions with clients and users professional; this includes refraining from using offensive language or making inappropriate jokes.
Always think before you post on behalf of a client.

Respect the opinions of others, even if they don't necessarily align with your or your client's beliefs.

Be honest and transparent in all your interactions with users on social media sites.

Show empathy when responding to user comments and questions, as this will help foster trust between the service provider and its audience base.
Monitoring and Reporting
Service providers should always be on the lookout for any signs of misuse or abuse by users on a client's accounts. Prompt action should be taken to address these issues to prevent them from escalating further. It is also essential to report any suspicious activities to the respective platform so that they can take appropriate measures.
Monitor all user feedback, both positive and negative, regularly.

Reply promptly and professionally to each comment or query posted by a user.

Report any inappropriate content or suspicious activity as soon as it comes to light to protect the integrity of your client's accounts.

Keep records of all interactions with clients and users so they can be referred to later if necessary.
Social media management is complex and requires service providers to stay on top of the ever-changing laws and regulations. Following these key guidelines can help ensure that your client's accounts are managed professionally and remain compliant with all relevant laws.
However, as technology evolves, so too do the rules surrounding social media management; it's important for service providers to keep abreast of these changes and regularly update their practices accordingly. Doing this will help protect their clients and themselves from any legal issues related to social media use.
Understanding these laws around social media management allows service providers to provide their clients with the best possible service and ensure that both parties remain compliant. This is a win-win for everyone involved.
So use this knowledge to your advantage and protect yourself, your clients, and their social media accounts!
---
In case you need the help of professionals who specialize in social media marketing for therapists, feel free to contact us -
We have a team of experts who can help you make the most out of your social media presence.