Engagement is the total amount of time, sharing, commenting, and following that a user spends on a social media site.
It's important to understand how to increase engagement on your social media sites in order to maximize your reach and ROI.
There are many different ways to do this, but some key tactics include creating engaging content, using effective social media engagement tactics and engaging with your following.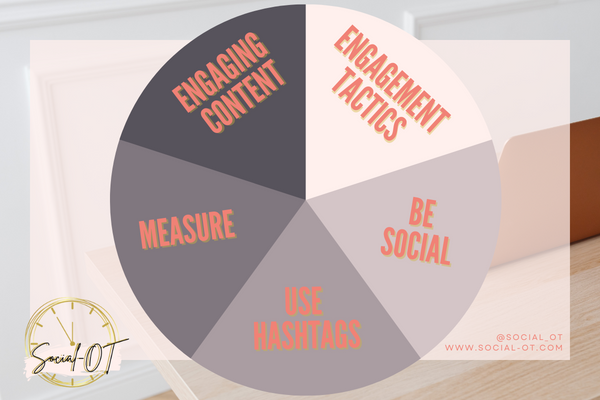 With that said, here are 5 Tactics that help boost your traffic and ROI (return of investment)
1. Create Engaging Content
Creating engaging content is one of the key ways to increase social media engagement. People will spend more time on a site if they feel like they're getting value out of it. Make sure your content is interesting, educational, and relevant to your audience. Use strong writing skills to capture your audience's attention and keep them engaged.
2) Use Engagement Tactics
Another key way to increase social media engagement is by using effective social media engagement tactics. This includes things like Facebook groups and Instagram Stories. These tools help you connect with your audience on a deeper level and promote your content in an organic way. They also provide a way for you to measure how effective your marketing campaigns are.
3) Be Social!
This may sound like a no brainer but it is absolutely one of the most important things you can do to. CONNECT with your following!! Use comments, likes, and shares to interact with your audience. This will help them feel engaged and connected to your therapy business.
4) Use Hashtags Effectively
Hashtags are a great way to engage your followers on social media. Not only do they help promote your content, but they can also help you find new followers who might be interested in what you have to say.
5. Measure your Social Media Engagement
Finally, always make sure to measure your social media engagement. This will help you determine how effective your marketing campaigns are and identify any areas that need improvement. By measuring your social media engagement, you can ensure that you are reaching all of your target audience members.
---
Make sure to post your content regularly on all of your social media channels and use effective targeting techniques to reach the right people. Doing this will help you increase your traffic and ROI for your content marketing efforts.
---
If you're an occupational therapist, physical therapist, or speech-language pathologist who is looking for help with your social media marketing, I can help! As a social media manager, I specialize in creating content that is designed to attract and engage potential clients. To learn more about my social media services,
click here.
---